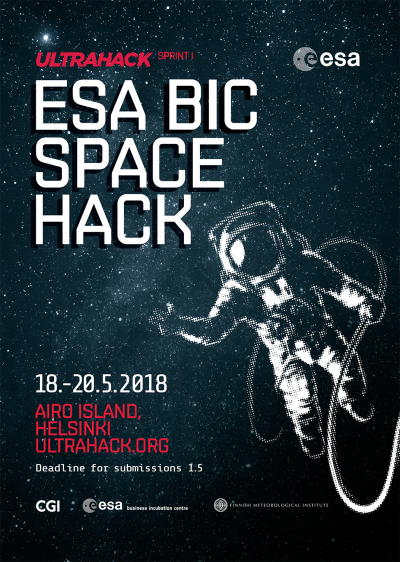 ESA BIC Space Hack Challenge
The traditional space industry took us to the moon, flew the space shuttle 135 times, building the Space Launch System for NASA, to eventually take astronauts back to the International Space Station (ISS) and on to Mars. Space Technology comes in a multitude of forms: positioning and navigation to communications, robotics, nanosatellites, augmented reality, autonomous driving, self-navigating and self-flying devices, ships and vehicles, novel materials, artificial intelligence, innovations specifically for arctic conditions, gaming, data visualization.
NEW TIMES, NEW SPACE: Come up with ideas, visualizations and solutions related to marine economy, arctic conditions, air quality and forestry which utilize Copernicus and/or FMI data resources. When submitting to this challenge, you are allowed to send the Space Hack submission also to either "The Talsinki Hack/ Marine" or "Hack the Forest Data/Forestry".
Solution domains we appreciate
Pick one or a few:
Marine economy: Sustainable use of marine resources; safe and smart transportation, logistics and navigation on the sea; accessible marine tourism,
Arctic conditions: Iceberg detection and migration forecasting, snow and ice coverage,
Forest resources: Identification, monitoring, forecasting and visualizing,
Air quality: Identification, monitoring and forecasting and visualizing,
Infrastructure: Identification, monitoring and forecasting and visualizing.
Regional focus on the Baltic Sea Region, Northern Europe and Arctic Areas.
Constraints
No constraints, space is the only limit.
About the company / Background
The European Space Agency's (ESA) Business Incubation Centre in Finland was founded in 2017 to support aspiring innovative entrepreneurs and young ambitious start-ups financially and technically to reveal their full space potential. We help you to introduce new technologies to the ESA and its partner network or to transfer existing ESA space technologies from hardware to data such as satellite data to terrestrial uses. Read more: www.esabic.fi
CGI is one of the largest IT and business process services providers in the world. CGI delivers complex, mission critical space software systems and is a recognised thought leader in space security and space-enabled applications. We are a European leader in military satellite communications ground systems and support civilian space agencies such as the European Space Agency (ESA), as well as Aerospace and Satcoms companies. CGI has a 40 year heritage of working with the European space industry: https://www.cgi.com/en/governments/space and https://www.cgi.com/sites/default/files/brochures/cgi-space-story.pdf
FMI Finnish Meteorological Institute's main objective of is to provide the Finnish nation with the best possible information about the atmosphere above and around and the seas around Finland, for ensuring public safety relating to marine, atmospheric and airborne hazards and for satisfying requirements for specialized meteorological and marine products. FMI also runs the Arctic Space Center hosting the National Satellite Data Center.
Resources
Satellite data instructions: https://docs.google.com/document/d/1MyiAaa6nWCkpbeZAY_ksn87Sb03WzlWzBHs_-NAIWSI/edit
Generic satellite data: Global Copernicus Data, Sentinel data, Copernicus Sentinel Satellite data from FMI: http://finhub.nsdc.fmi.fi/ (Need to do registration before the hackathon, mention Ultrahack). User guide is available for clicking " ? " on the FINHUB webpage.
Forestry-related data: https://ultrahack.org/ultrahack2018sprint1/hack-the-forest-data
Marine and air specific https://en.ilmatieteenlaitos.fi/open-data (weather and marine data)
Arctic conditions specific: http://litdb.fmi.fi

Judges

Kimmo Isbjörnssund / ESA BIC Finland
Jaan Praks / Aalto University
Martijn Leinweber / Space Business Innovation Centre Noordwijk, Netherlands
Timo Lättilä / CGI
Timo Huttunen / Turku Science Park
Jyri Heilimo / FMI

Mentors

Mika Vuorio / CGI
Ali Nadir Arslan / FMI

Prizes

5,000€ cash prize for the winner

Shortlisting to the BIC programme:

50,000€ Incentive Funding for product development and IPR for the BIC approved teams (applications apply)
Access to venture capital partners and business development loans
Up to 80 hours of technical support by world-class partners
Financial and Administrative support (e.g. office space, mentoring, business planning)
Business matchmaking, market testing, marketing advice, labs and other facilities
Permission to use the ESA BIC brand to promote your business
Access to the international ESA BICs community
The winning team of the track will have the opportunity to pitch their project at the Arctic15 business event in Helsinki (30th-31st of May, 2018) in front of international media and investors.
FMI: tba
CGI: tba
---