Welcome to From Ideas to Impact™ morning and showcase event 5th of September at Aalto Startup Center where selected cases will pitch at lounge area to stakeholders. ESA BIC Finland will have booth there with Aalto Startup Center and Innovation Services.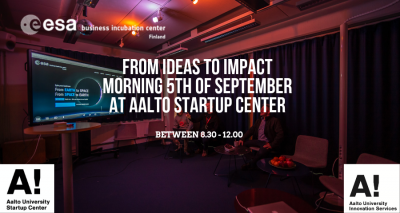 Schedule: 
Between 8.30 – 12.00, Aalto Startup Center, 1st floor  
8.30 – 12.00
mini booth from Aalto Startup Center, Innovation Services and ESA BIC Finland
Target groups: all of our stakeholders or if your startup want to apply to Aalto Startup Center 
8.30 – 9.00 breakfast and "mingling" / networking
9.00 – 9.30  Event opening Janne Laine, VP, Innovation Ecosystem,
                   Panu Kuosmanen, Innovation Services
                   Marika Paakkala, Aalto Startup Center
                   Kimmo Isbjörnssund, ESA BIC Finland
Showcases on the stage from ESA BIC Finland, Innovation Services and Aalto Startup Centercases (10 min. / team) – short pitch to audience
10.30 – 10.45 Short mingling break 
11.55 – 12.00 Thank you and have a nice day!
---