ESA BIC Finland and The Region of Valencia in Spain represented by Distrito Digital kick off a co-operation for Nordic space startups to create global companies
Introducing Nordic space related startups into the Spanish and Latin American markets and helping them grow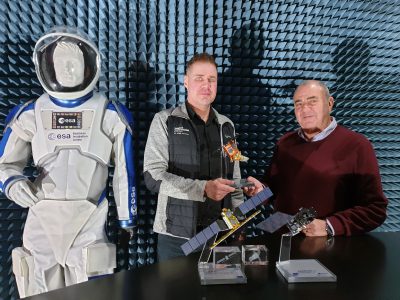 Distrito Digital of the Generalitat Valenciana has been setting up a digital economy ecosystem in the region in order to become a technological epicentre in Valencia. Most of its programme companies currently come from Finland, 30% from Spain and the rest from the UK, Germany, Mexico, US, Brazil and Switzerland. With this new cooperation with ESA BIC Finland, the European Space Agency's Business Incubation Centre in Finland, more Nordic companies are to be introduced into this digital business ecosystem. The companies have expert resources and office spaces at their disposal for setting up and operating their businesses.
The project kick-off and the first Nordic Space Demo Day will be in Alicante during Spring 2020, with the presence of the President of Valencia Ximo Puig and large corporations taking part in this programme.
According to Antonio Rodes, CEO of Distrito Digital" This co-operation agreement with ESA BIC Finland is strategic for Distrito Digital, as already stated by the President of Valencia Ximo Puig when he announced that the consequences of climate change in Valencia region are causing severe natural disasters for which novel solutions are needed. Space based solutions can be of strategic value when analyzing, predicting and preventing these disasters." 
This cooperation will focus on market introduction, piloting and go-to-market activities, growth and boosting innovation of the joining companies in a strategic location in Spain close to an international airport and a railway station, in a favorable climate.
Major Spanish and global corporations are ready to create and fund projects with the selected companies. These corporations include for example Ferrovial, Indra, Accenture, ADN Angels, Suez, ATOS, Sacyr, Globalia and more to come.
"Last Summer we from ESA BIC Finland visited Valencia region and Distrito Digital. There we got convinced that this co-operation will make wider sense to our whole Nordic space startup network. We together will make it easier for our programme startups to enter and grow in the Spanish and Latin American markets " Kimmo Isbjörnssund, head of the European Space Agency's Business Incubation Centre in Finland.
Distrito Digital will dedicate its best professionals to run the programme. A qualified team will run the internationalization project with each company, led by a project leader with a deep knowledge of Spanish and Latin American markets, internationalization processes and extensive background in management and international trade. Distrito Digital will also boost innovation by facilitating co-operation between startups and corporations
About ESA BIC Finland:
We are the space applications focused business incubation center of the European Space Agency in Finland. Each year we select and incubate up to 10 of the best startups in Finland and help them with expert resources from ESA and our partners, and give them up to 75.000 EUR of funding for their projects. Find out more at www.esabic.fi and apply!
About Distrito Digital:
The main objective is to boost the Digital Economy in the Valencian Community, from the supply and management of spaces and services for technological companies, creating a unique, diverse ecosystem, whose differentiating factor is the quality of the projects generated by the companies which move there and join it.
Notable in the Digital District service catalogue are the personalized hosting plan, the training of professionals of the businesses established there and undertaking technological events oriented toward the market.
---