ESA BIC Finland selects first space innovation to join its incubation programme
European Space Agency's Incubation Centre in Finland is pivotal to the national New Space Economy programme's targets to double space industry turnover in the country
ESA BIC Finland, operating within Aalto University and selecting up to 10 of the most innovative Finnish space startups into its programme yearly welcomes the first space startup: the first selected company is Collective Crunch which collects satellite data, especially for climate and location and refines it to Artificial Intelligence services for industries. Fields of activities include Smart Forestry and energy. The company has won several technology awards and has gotten very positive feedback from its clients.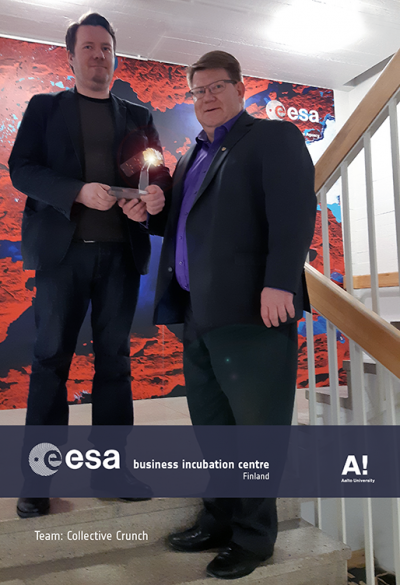 One of the founders of Collective Crunch, Chief Product Officer Jarkko Lipponen: "I'm very excited about the ESA cooperation, especially around our forest industry product where were are building a service for sawmills and organisations that are buying forests. With ESA's data we can really take a leap towards scaling the product globally. Also getting ESA experts into our project will deepen our knowledge of space data and how to utilise it in global markets."
ESA's Business Incubation Centre in Finland has a permanent open call with two selection rounds per year
The selection panel includes members from ESA, its partners Aalto University, Business Finland, Turku Science park and Geowise Ltd.
"Space industry is experiencing a big boost globally. New ideas for the space industry, the so-called New Space technologies such as nanosatellites are particularly interesting to us. Some examples of these are Aalto University's nanosatellite programmes and the startups born out of these like Iceye that just entered into a partnership with ESA. We also welcome ideas from startups that use existing space technologies and services such as weather and location data in their business models. In many ways, the numerous companies already using GPS positioning data can be considered space companies. That's why the range of ideas and startups applying to us is very wide" says Kimmo Isbjörnssund, head of ESA Business Incubation Centre Finland.
ESA BIC Finland a key contributor to Finland's New Space Economy programme
"The time is right for Finland's space sector to take a stellar leap. We are traditionally strong in radio technology, components, instruments and software. And today in building nanosatellites and using satellite data for commercial purposes. Business Finland searches the most potential companies, funds them, helps them to New Space markets and large ESA and Horizon projects and attracts investments and builds global ecosystems. We're here to help Finland double its New Space Economy," says director for space matters in Business Finland, Kimmo Kanto
Started in late 2017, ESA BIC Finland is part of a growing European network of space incubation centres the role of which is to grow the competitiveness of the European space industry by supporting selected startups financially and technically. Over 500 startups have already graduated from the European programme. More information on www.esabic.fi how to apply.
For more information:
Kimmo Isbjörnssund
ESA BIC Finland Manager, Entrepreneurship Advisor
+358 50 4436 855
kimmo.isbjornssund@esabic.fi
kimmo.isbjornssund@aalto.fi
https://www.businessfinland.fi/en/for-finnish-customers/services/build-your-network/arctic/new-space-economy/
---